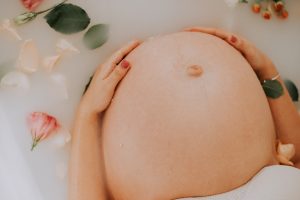 Most pregnant women understand that the food they eat, beverages they drink during pregnancy can have a profound effect on their health and the health of their baby. But many don't realize that what they put on their bodies can be just as significant.
Take care of your skin when you are expecting!
During pregnancy, face and body change. Your skin often reacts to hormonal fluctuations, becoming dry and dull.
What happen during you are expecting?
Stretch marks may appear on hips, stomach, breasts, arms (elastin fibers is ruptured) and can last several months and years
Your skin needs something, you have to adjust your daily or weekly routine to a maternity routine.
A pregnancy mask may appear from the 4th month (brown pigmentation spots on forehead, cheeks, around eyes and mouth).
While most commonly used products are completely safe, there are a handful of ingredients experts say it's best to avoid (like retinoids, salicylic acid, hydroxy acids, soy, steroids, …). Many of products pass through the skin and are absorbed into our bodies.
Alhambra Wellness is only natural products, pure, free of chemicals, parabens; it's direct from the tree to the bottle to you, one single ingredient. That's why our products are safe for you and for your baby.
In addition to choosing products that are safe for you and your developing baby, you should change up your skincare routine to help with common skin issues that are related to pregnancy.
Clean you face in the morning and in the evening with our Rose Water or our Orange Blossom Water 

Apply our Prickly Pear Seed Elixir on your face 

Hydrate your body from head to toes with our Argan Oil 
Exfoliating once a week is recommended when women are expecting to get rid off dry and dead skin. Clear of dead skin, skin reflects light better and glow. 
For face use our Rhassoul Clay (Gentle Peeling) 

And Prickly Pear Seed Elixir, to hydrate and your face, neck and around lips
For body use our Eucalyptus Black Soap (Exfoliating body scrub) with our Exfoliating Mitt

Hydrate your body from head to the toe with our Argan Oil, you best body partner stretch mark expert